Message from Your ACHE Regent

Summer 2020

Greetings to each ACHE member across North Carolina. It is hard to imagine how fast the last three months have gone by. The coronavirus pandemic continues to impact our communities, and your service as healthcare professionals is recognized across the state and beyond. Our "next new normal" continues to change how we work, promotes innovation in how we care for patients and provides opportunities to reflect on lessons learned. Thank you for your service, support, and care for patients, staff, each other, and our communities during these unusual times.
The NC ACHE Regent Advisory Council (RAC) met for the first time on July 31. There are two members from each of the four chapters. The purpose of the RAC is to provide advice to the Regent, promote the interests of all ACHE members, and coordinate the activities of local ACHE chapters, Higher Education Network participants, and other healthcare organizations to promote the mission of ACHE. This year the RAC will work on statewide collaboration among the four chapters and coordination of networking opportunities with the Higher Education Network (HEN).
The members of the NC ACHE RAC are as follows:

ACHE of the Triad: Dave Jenkins, FACHE, and David Beasley, FACHE
Greater Charlotte Healthcare Executives: Ryan Campbell, FACHE, and Tom Elmore, LFACHE
Sandhills Healthcare Executives Forum: Jason Cox, FACHE, and Jeanenne Watters, FACHE
Triangle Healthcare Executives' Forum: Swati Bhardwaj, FACHE, and Christa Johnston, FACHE
I look forward to working with each of the members to benefit the local chapters, bring awareness to those who are not ACHE members, increase engagement with current members, and to provide opportunities for professional development.
Get involved in your local ACHE Chapter. As a member of ACHE, you are automatically a member of a chapter. If you are a new member of ACHE, find a chapter near you:

ACHE of the Triad: http://triad.ache.org/
Greater Charlotte Healthcare Executives: https://gcheg.org/
Sandhills Healthcare Executives Forum: http://sandhills.ache.org/
Triangle Healthcare Executives Forum: https://thefnc.org/

The local chapters provide educational programs that qualify for ACHE Face-to-Face and Qualified Education credits. The recent announcement surrounding the new virtual Face-to-Face credit options have been rolled out by the chapters. Chapters can offer via virtual panel discussion templates nine hours through December 31, 2020. National virtual Face-to-Face courses were launched to provide another opportunity for members to earn credit for advancement and recertification.
Thank you to our ACHE Chapter members who have offered to assist with the virtual visits to each Higher Education Network (HEN) school across the state to promote ACHE membership and local chapter involvement to their students. The HEN is a collaborative between ACHE and healthcare management programs, which provides a valuable on-campus experience for students. The HEN visits must be completed before the end of the convocation year (March 2021). It is a rewarding opportunity to network with future healthcare leaders and to promote ACHE. If you are interested in helping with a specific school, contact me. The HEN visits will be virtual this year instead of an in-person visit. I will provide everything you will need to present virtually.
HENs in North Carolina
Appalachian State University
East Carolina University
Fayetteville State University
Gardner-Webb University
Pfeiffer University
Methodist University
Mount Olive College
Queens University Charlotte
University of North Carolina, Chapel Hill
University of North Carolina, Wilmington
University of North Carolina, Charlotte
Winston-Salem State University
As we continue to provide care to patients during the coronavirus pandemic, ACHE provides an online COVID-19 Resource Center. The information is updated regularly with many free resources for healthcare leaders, along with webinars and podcasts. Take advantage of these resources.  
I am open to suggestions on how we can collaborate to grow our ACHE membership, provide educational opportunities locally and in collaboration across our four chapters, offer advancement opportunities to increase the number of ACHE Fellows and to bring an awareness of ACHE to those who are not currently an ACHE member. I look forward to hearing from you.
Thank you for your individual contributions as a healthcare leader and the collaborative work to continuously improve and advance the health of all in our communities.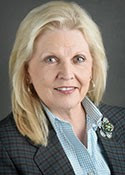 Joann L. Spaleta, FACHE
Regent for North Carolina