Message from Your ACHE Regent

Spring 2020

Greetings to our ACHE members across North Carolina. A heartfelt thank you for your dedication, energy, and effort to serve our patients, staff, and communities during this unprecedented time of the coronavirus pandemic. Caring for and service to others, especially during these times is a privilege, honor, and a tribute to the healthcare heroes in our communities.
I am honored to serve as your ACHE Regent for North Carolina and look forward to the next three years. The opportunity to serve ACHE members, healthcare executives, educators, and other healthcare professionals in the state is humbling and a responsibility I take very seriously. I will work with you to provide opportunities to assist healthcare executives in their professional growth and development and to increase the awareness of ACHE.
Get involved in your local ACHE Chapter. Chapters help the members to develop new leadership skills, hone current skill sets, and provide opportunities to give back to the profession. Volunteer to serve on a committee, become a mentor in the mentorship program, use your leadership skills and influence on the Chapter boards, and network at the next social or educational program. The local chapters provide education programs that qualify for ACHE face-to-face and Qualified education credits.
We are implementing a Regent Advisory Council (RAC) this year with membership from each of the four chapters. The purpose of the RAC is to provide advice to the Regent, promote the interests of all ACHE members, and coordinate the activities of local ACHE chapters, Higher Education Network participants, and other healthcare organizations to promote the mission of ACHE.
Based on your location in the state, you can find a Chapter near you:
ACHE of the Triad: http://triad.ache.org/
Greater Charlotte Healthcare Executives: https://gcheg.org/
Sandhills Healthcare Executives Forum: http://sandhills.ache.org/
Triangle Healthcare Executives Forum: https://thefnc.org/


We will work to visit each Higher Education Network (HEN) schools across the state to promote ACHE membership and local chapter involvement to their students. The HEN is a collaborative between ACHE and healthcare management programs, which provides a valuable on-campus experience for students. Thanks to those who helped visit the schools this past year and provided an information session for the students. All HEN visits must be completed during the convocation year (March 2021). It is a rewarding opportunity to network with future healthcare leaders and to promote ACHE. Let me know if you are interested in helping with these visits.
North Carolina schools in the HEN are:

Appalachian State University
East Carolina University
Fayetteville State University
Gardner-Webb University
Pfeiffer University
Methodist University
Mount Olive College
Queens University Charlotte
University of North Carolina, Chapel Hill
University of North Carolina, Wilmington
University of North Carolina, Charlotte
Winston-Salem State University

Thank you to Brian Canfield, FACHE, for his service as past Regent for North Carolina and his time to assist me with the transition as your new Regent.

I would like to recognize the four chapters for their accomplishments this past year. Each of our chapters provided high-quality services to the ACHE members and other healthcare executives at the local level. These awards are based on established criteria and objectively measured results.
ACHE of the Triad:  2020 ACHE Award for Chapter Excellence
Greater Charlotte Healthcare Executives:  2020 ACHE Award for Sustained Performance
Sandhills Healthcare Executives Forum: 2020 ACHE Award for Chapter Excellence
Triangle Healthcare Executives Forum: 2020 ACHE Award for Chapter Excellence

I welcome your suggestions on how we can collaborate to grow our ACHE members, provide educational opportunities locally, develop our healthcare leaders, increase the number of ACHE Fellows, and to bring an awareness of ACHE to those who are not currently an ACHE member.

Again, I am honored to serve alongside each of you and as your Regent. Thank you for your individual contributions and the collaborative work to continuously improve and advance the health of all in our communities.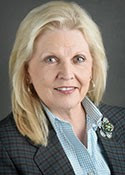 Joann L. Spaleta, FACHE
Regent for North Carolina